Varnish and lacquer part 2
In the previous blog post I wrote about floor wax and that I was going to try it out.
I have to say I'm very satisfied with it. I've adjusted the method a bit, because my fingers don't like rubbing in circles with a cloth with wax. Even with splints they want to go in all directions. So I apply it with a palette knife and consider my painting as a sandwich that I provide with butter.
Of course I first tried it on a piece of paper with a silly watercolor painting to see that the paint really wouldn't reactivate. And guess what: the painting was not affected.
After that I used the stuff in my homemade art journal. I work in that to try things out, play with materials and practice. It's nice to know that my watercolor and gouache can no longer get wet when they are covered with a layer of grease.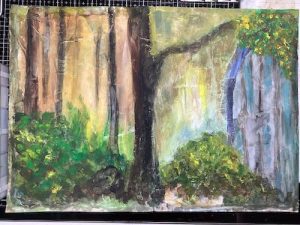 It holds up well on the painting. After about 2 days, I buff the surface with a lint-free cloth and a little sheen comes over it. The painting is now protected from water and dust, but not from UV.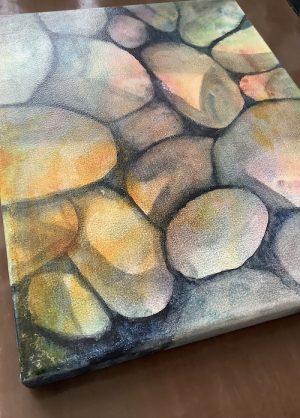 At NaturalEarthpaint.eu they have a solution for that: An alcohol-based completely vegetable varnish. If I were to use this first, my painting would have faded, or at least become an abstract painting, but… I can also apply it over the wax layer and it suddenly gets interesting. The varnish is peculiar: several coats really give a lacquer look and yes, it is glossy, but the gloss doesn't come off like plastic. Just that little bit of extra umpf.
Curious about the ingredients, I see that they don't want to reveal them. However, it is Vegan, so no animals are used. Strange…. I could have sworn it might be some sort of shellac, but that's what lice are used for.
I give credit to Natural Earthpaint and will continue using this varnish. By the way, they have something else interesting: Natural Acrylic medium, also vegetable and petroleum-free. I'll keep that in mind for when I start experimenting again with acrylic-like art.
Finally I came across a video on youtube about making floor wax yourself. The ingredients are beeswax, carnauba wax and….. baby oil!!!!
That seems worth a try to me.