I post quite a lot on instagram including hashtags and a link to my website. That takes some time and when I have posted a painting, there is often a mess in return. "Men" who follow me and then try to become friends with me so they can trick money out of me, Accounts who just post pictures of others who then want you to "DM" your own picture to them and the so-called NFT collectors, often " miners" who get rich from your gas fee payments.
But recently I actually got hold of someone who was interested. A somewhat older lady from America. She asked, "Are your commissions open?" a strange question in itself, but maybe she heard of something without knowing the origin? So I responded that I would soon have time for assignments again. Then she asked about a specific painting on Instagram and whether it was still for sale and what it should cost.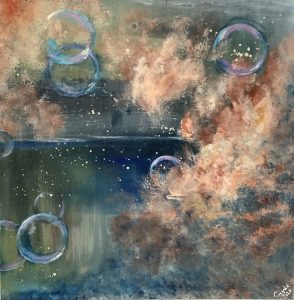 My heart skipped a beat, do I have a customer? Because she came from America, I converted the price to dollars, isn't it nice? She asked for my Paypal link and email address which I provided. Then she said the link didn't work, she couldn't transfer the money. I paniced. Checked everything again and I couldn't see anything strange. Then it became quiet….
So I was bummed that a payment couldn't go through and that I had missed a customer because of it. I even tried to transfer an amount from my private account from Paypal to my business account and it just worked. (Costed me 40 eurocents to do so by the way)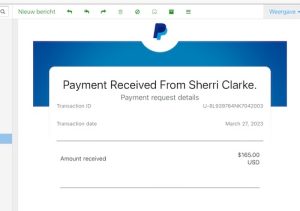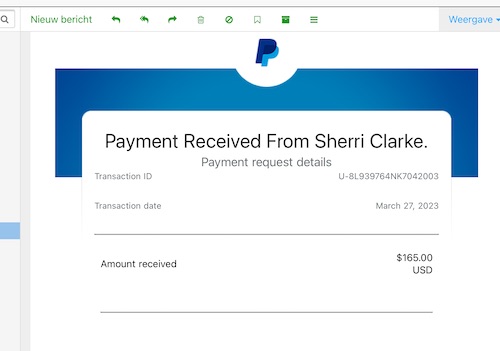 A few days later I received an email from "Paypal" that an amount was transferred.
The lady in question also made herself heard again via Instagram. She had transferred the money. So I say: Yes, I have seen that. Where can I send the painting to?
Then I continued reading the email…
The amount could not be deposited into my account because it was not a business account and my limit was not high enough to receive the money.
Ehm … it ís a business account and a similar amount had been transferred and received before.
According to the email, I had to ask my last customer to transfer an extra $100 to increase my limit and then arrange with the customer to refund the money, after which Paypal would transfer the money directly to my account.
Ooooh, wait a minute…. I suddenly noticed that the email address was not from Paypal, but from gmail. And when I also saw the threat from the FBI at the bottom of the e-mail, I knew enough.
The lady on Instagram came up with the message that she had consulted with her son and that she was not allowed to buy the painting from him, she wanted her money back. I said: I think I'm being scammed, the email address is incorrect and Paypal would never ask such things. She suddenly started acting unkind, stopped calling me darling, but Dam and then I was done with it.
I reported her to instagram, blocked and deleted her and sent the relevant email to Paypal as a scam report.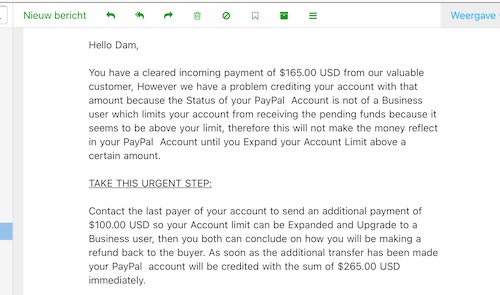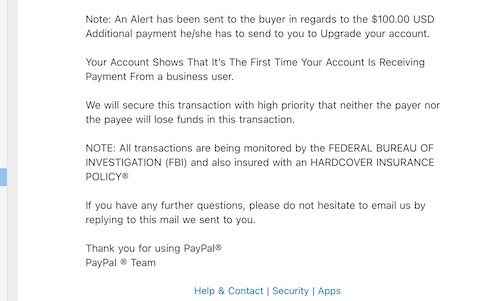 All of this has been a rollercoaster experience for me. The moment you think you've sold a painting, the disappointment when payment fails, receiving an email with the requested amount first and then finding out that it's all fraud.
It is such a pity that these people, wrong men, photo followers, NFT and Paypal scammers are the first to find you and it makes it difficult to respond enthusiastically to reactions to your work.
Last week I had a masterclass series on "Start Selling Your Art" by United Art Space and it was made clear that the largest group of new customers want to know you first and then think about which painting they like best before buying. So I respond again to all the Hi's and How are you doing's again and try to guide them a bit to my website, knowing in the back of my mind that it's probably just another scammer….