Gesso van Pebeo Studio Green
I make my own gesso for a while now with wallpaper glue, plaster, titanium pigment and casein. It is quite a hassle and I can only make as much as I need each time because the casein is perishable. So I kept my ears and eyes open for alternatives and I think I have finally found one…
Pébéo is a company based in France with a rich history in producing creative products. They now also have a green line in their range. I had previously purchased the Bindex 3in1 acrylic binder and wasn't sure what to think about it. That was much more liquid than I am used to for an acrylic binder. 
Of course I can get used to this, because just look at the label: 100% recycled bottle and binder! To get it a little more pasty, I can of course mix in some chalk, plaster or marble flour. Something for a future blog post.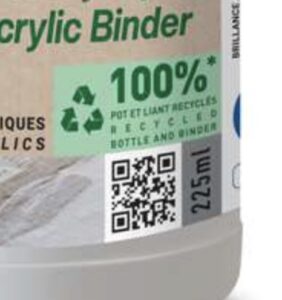 Now I would like to talk about the gesso of this brand. What an amazing material that is! Creamy, soft, spreads well and covers as you would expect from a gesso. There is also the gesso one coat; I keep that in mind.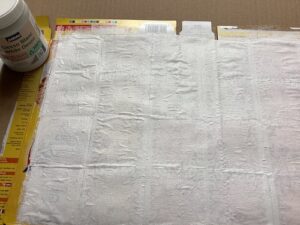 In the picture on the left you see tea bag envelopes glued to an old cereal box with 1 layer of gesso. The very first row on the left is plastic, the rest is paper with aluminum on the other side. At first glance there doesn't seem to be a difference, but that becomes clear when I use shellac ink on it after drying.
It looks like the gesso on the plastic is turning liquid again. A special experience, one that should certainly be taken into consideration. Because working with ink often becomes a wet mess, I let everything dry for a few days.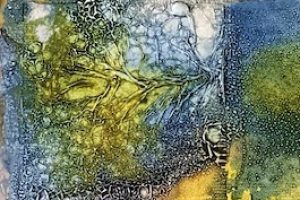 In comparison to the wet work, the dried work is very light. I add another layer of shellac ink and try to accentuate the good things and camouflage the not-so-nice.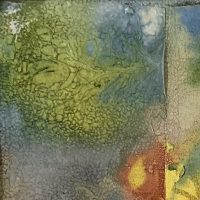 Now I can indeed see that the gesso comes loose from the plastic when it gets wet again. Dry it looks crackled and stays in place, but wet you can easily rub it off. So don't touch it too much and let it dry again.
This time the colours remain bright and I have a new painting.
I don't get paid for promoting Pebeo products.
This is an independent research into environmentally friendly alternatives for artist materials.