Pebeo Gesso as Watercolour ground
Last week I was so excited about Pebeo Studio Green Gesso that I'm continuing with it this week.
Because the work became so light after drying, I started to suspect that the gesso was absorbing the paint/ink. That would mean it might also be useful as a prep layer for a watercolour on canvas. I put it to the test and made some of my own gesso. 
I spread the Pebeo gesso and my own gesso on a piece of paper, and I also place a piece of drawing cardboard that feels like watercolour paper. Once the gesso is dry, I apply several different types of watercolour and shellac ink (top right), dry technique and wet-on-wet.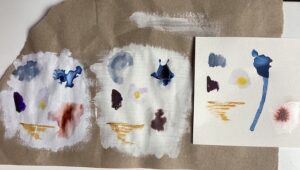 The latter is a special case on the Pebeo: it did not want to flow like the other two under layers did and by wiggling it back and forth a lot it simply turned into a puddle of brown.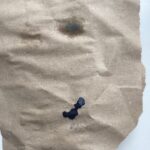 What's even more striking, after it has dried quite a bit, is that the shellac ink indeed seems to be gone. When I turn the paper over, I see where it went. Pebeo gesso does indeed allow paint to pass through.
I take it a step further and gesso an old cereal box twice. Biggest test: can it handle a lot of water.
Unfortunately, I get the same effect on the cardboard as on the plastic tea envelopes: craquelure. Great if you want this effect, but this is not how a watercolour ground should work.
Still, I haven't finished my test yet. I take a canvas that I have already treated twice with normal gesso and apply 1 layer of pebeo gesso to it. This time I let everything dry thoroughly.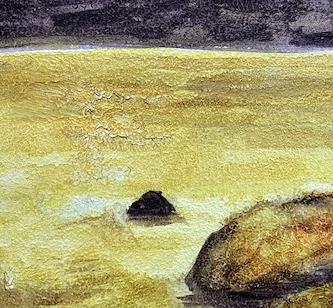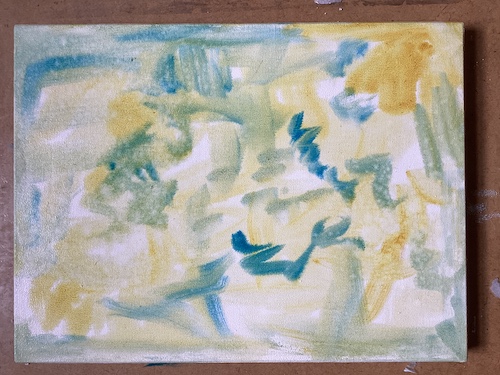 To my delight, the canvas passes the water test and even shows some nice flow. The second layer, which is usually so difficult on a canvas because of the reactivation of the paint, is also effortless and here again there are puddles of water without any strange side effects. I think it has something to do with the temperature and speed of drying.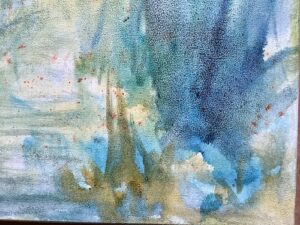 If the gesso does indeed allow paint and water to pass through, it may be that the surface is too wet and the top layer dries faster. Then you get craquelure. I once did an experiment with this: First you spread a layer of craft glue on a piece of cardboard, then apply a layer of acrylic paint on top. The paint dries faster than the glue and tadaaah! It's cracking!
The important thing is that the bottom and top can dry equally quickly and with a canvas this seems to work well. Yup, I am happy with this outcome!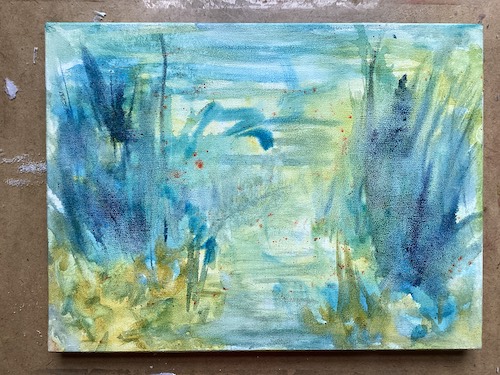 I don't get paid for promoting Pebeo products.
This is an independent research into environmentally friendly alternatives for artist materials.