Gessos, primers and other substrates
part 2
Two weeks ago I wrote about alternatives to gessos and that the ingredients I used were mostly not working. Now the sequel…
First, I started to investigate more closely what a watercolor gesso should meet. On the one hand, the substance should not be reactivated with water. It should be able to absorb water and pigments, but not to such an extent that it disappears right away, like toilet paper and sand. Watercolor paper is sized, which means that there is an agent in the paper (and on it) that prevents the water from directly soaking into the paper. To do this yourself, highly diluted pva glue is used; the white hobby glue and wood glue. PVA sizing is also used to protect canvases and the painted surface from external influences through the back of the canvas.
By now I realised that there is not one single ingredient that carries all the above properties. The crazy professor had to be taken out with the biggest mission: get rid of the acrylic binder in your basic recipe.
I still had 1 ingredient that I have pinned all my hopes on and that is: methyl cellulose or wallpaper glue.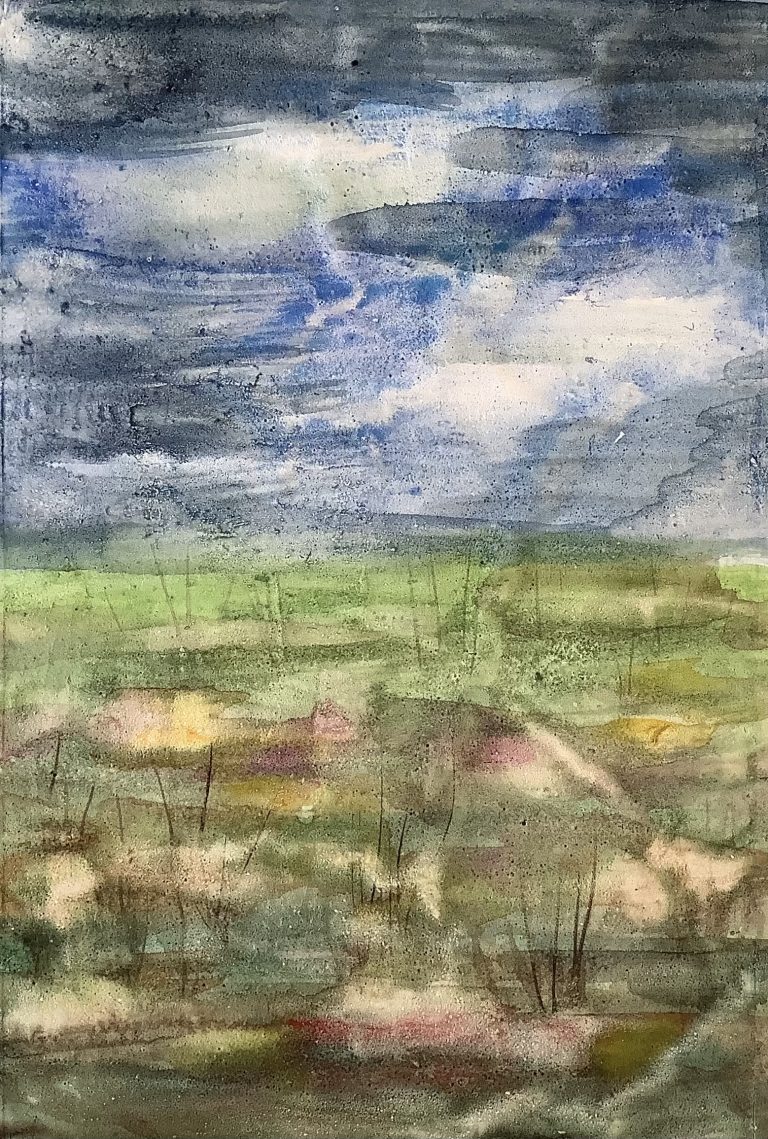 A nice binder, but it is activated again by water. I started experimenting with adding wood glue, which is waterproof after drying. For the absorption and color coverage I used chalk. The first badge had way too much chalk: after drying, the layer of gesso broke and pulverized. After adjusting the proportions, I made a test painting on an empty bag of nuts. It got me excited. The top layer after moistening did not stick, paint could flow well, paint could be lifted and after drying a second layer was possible without affecting the underlying layer too much. Of course, when painting on gesso, you should always be careful with multiple layers and not be too rigorous with the paintbrush.
Despite (or partly because of) this small success, I continued to experiment. Also because of the wood glue, which is admittedly more eco-friendly than acrylic, there had to be another way, right? So I came back to the casein, which is also waterproof after drying. This, in combination with wallpaper glue, gypsum and titanium white pigment, I smeared on newspaper, which I glued with pure wallpaper glue in a magazine. (Lately I've been fascinated by art journaling in old magazines or advertising papers: they don't cost anything (extra), you can experiment with them extremely well and let yourself go in color and materials).
There is a limit to the amount of water and paint strokes made (see top left in red where the letters of the newspaper come through), but other than that I started to make cautious jumps of happiness. This just might work.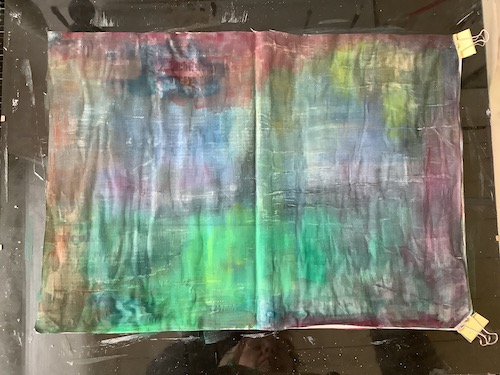 Next step: using the gesso on fabric. I didn't want to make a canvas for it yet, so I glued pieces of leftover fabric (left 100% cotton, right 100% synthetic with dark blue print) in my magazine and applied 3 layers of gesso.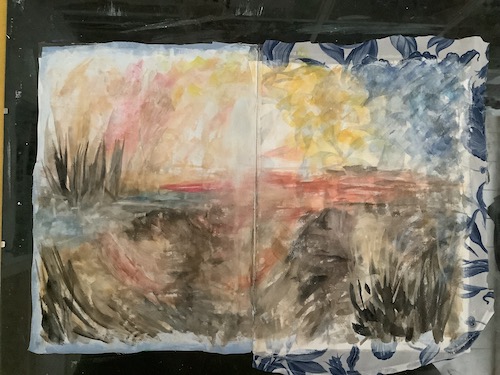 And then came the moment of truth: is it suitable for painting with watercolors, can the paint flow, is the finish nice after drying, can you lift the paint after application, can you apply a second coat? I did a happy dance, because I can say yes to all the questions.
Maybe the recipe can still be refined, but for now I'm so excited that I'm going to try it with this formula.
Would you also like to make and try this gesso? You can find the recipe here.
Please let me know what you think about it at info@ingriddam.nl!